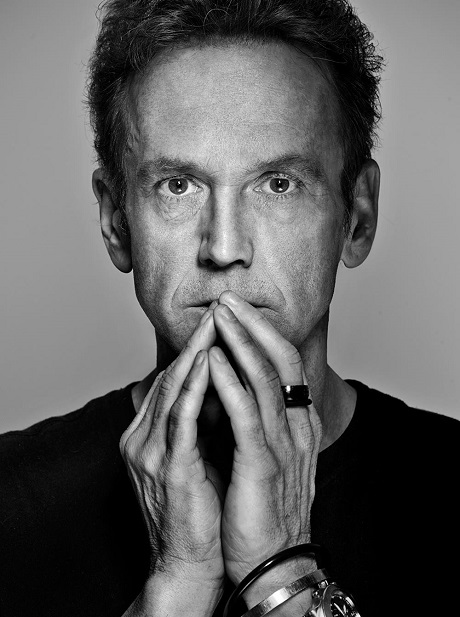 San Diego Comic Fest is proud to welcome
Bill Sienkiewicz as our 2020 Guest of Honor!
Bill Sienkiewicz (pronounced sin-KEV-itch) is a multi-Eisner-winning, Emmy-nominated artist best known for revamping the style of comic and graphic novel illustration from 1980 onward—most notably with Marvel Comic's Elektra: Assassin, Moon Knight, and New Mutants (which inspired the FX drama Legion and upcoming 20th Century Fox/Disney feature), and his acclaimed graphic novel Stray Toasters—earning him an international reputation and cult status across media industries.
A classically trained painter, Sienkiewicz's renderings incorporate abstract and expressionist influences and any combination of oil painting, acrylics, watercolor, mixed media, collage, and mimeograph – previously unheard of in comics. His paintings have graced the National Museum of Fine Arts in Rio de Janeiro, Brazil, galleries in New York, Paris, Barcelona, and Tuscany, Spain's famed La Semana Negra (The Black Week) Festival, and the internationally touring exhibition Marvel: Universe of Super-Heroes.
Sienkiewicz's retrospective art books include the Eisner-winning Bill Sienkiewicz's Mutants and Moon Knights and Assassins (IDW), Revolution (Six Foot Press), and The New Mutants: Bill Sienkiewicz Marvel Artist Select Series (IDW). He also illustrated The Island of Dr. Moreau (Beehive), Voodoo Child: The Illustrated Legend of Jimi Hendrix (Kitchen Sink), and Moby Dick (Classics Illustrated).
Sienkiewicz's commercial and editorial work includes posters for the 2018 Halloween remake, Spider-Man: Into the Spider-Verse, Netflix's The Black Godfather, Logan, The Green Mile, Unforgiven, and 2006 Winter Olympics; advertising campaigns for Legion, Nike, MTV and Nissan; CCG game cards Magic: The Gathering and VS System; and magazines such as Playboy, Entertainment Weekly, and Spin. He has also done album covers for Seth MacFarlane, Kevin Smith, RZA/Bobby Digital, Kid Cudi, EPMD, T.I., and Bruce Cockburn.
He has also contributed on-set props and portraiture for Legion, storyboards for The Green Mile, and production and character design for the PBS children's TV series Where In the World is Carmen Sandiego? The character of Kingpin in Spider-Man: Into the Spider-Verse was modeled after Sienkiewicz's interpretation in Marvel's Daredevil: Love and War.
 He has taught at The Illustration Academy in Kansas City, MO and The Kubert School in Dover, NJ, and spoken at the California College of the Arts in San Francisco and ArtCenter in Pasadena, CA.
 Sienkiewicz has garnered numerous accolades—most notably 2019 Eisner Awards for the Eisner Hall of Fame and Best Archival Collection for IDW's Bill Sienkiewicz's Mutants and Moon Knights and Assassins, 2004 Eisner for DC Comics' The Sandman: Endless Nights, and 1995 and 1996 Emmy Award nominations for Where In the World is Carmen Sandiego? In the mid-80s, Elektra: Assassin swept the top comic illustration awards in the U.S. and Europe, with a Kirby Award, Yellow Kid Award, and Gran Guigiri Award. He also earned a Spectrum Grand Master Award, Inkpot Award, four Eagle Awards, Alpe d'Huez Award, Haxter Award, Adamson Award, March of Dimes Award for charity work, and a Lifetime Achievement Award from the Newark School of Fine and Industrial Art, which he attended.