Sara Karloff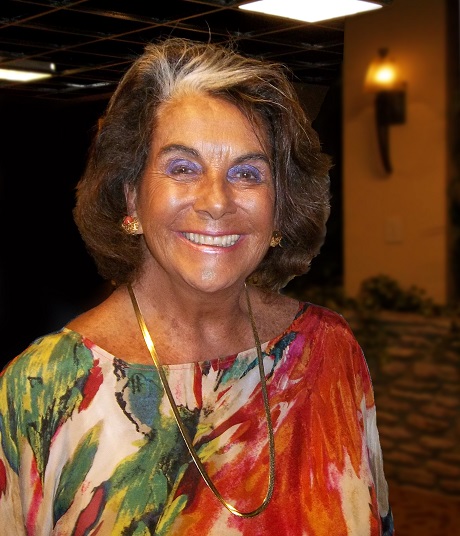 Sara Karloff was born on her father's 51st birthday, November 23, 1938. Boris Karloff was filming Son of Frankenstein at the time. Sara jokes that she was "his most expensive birthday present ever."
Ms. Karloff is widowed, has 2 grown sons and 3 grandchildren. She has lived in Rancho Mirage, CA since 1981. In 1993, following the death of her step-mother, Evelyn Karloff, Sara assumed the responsibility for the persona and licensing rights relating to her famous father and formed Karloff Enterprises. The company's goal is to maintain a standard of excellence and appropriateness when the name or likeness of her father is used. Through the licensing process she has been able to make merchandise and collectibles available to her father's fans.
Sara met Ron Chaney (great-grandson of Lon Chaney Sr. and grandson of Lon Chaney Jr.) and Bela Lugosi Jr. (son of Bela Lugosi) for the first time in 1993 at a Famous Monsters of Filmland convention. As a result of that meeting a very special alliance was formed.
Although initiated by Ron Chaney, Ms. Karloff spear-headed a three-year effort to have their respective famous relatives immortalized in a series of commemorative United States Postage Stamps. Petitions were circulated all over the country, and with the help of the Screen Actors Guild, the media, innumerable genre magazines, and thousands of fans worldwide, more than 17,000 signatures were collected in support of this project. It was the legions of fans who made this effort a reality.
While similar projects often take much longer, in just under three years the Post Office notified the families that the petition for commemorative stamps had been approved. Annually the Post Office receives in excess of 30,000 requests for commemorative stamps, with approximately 30 issued. This beautiful set of 5 commemorative stamps honoring these 4 men for their immense contribution to cinema history and to the horror film genre in particular was issued September 30, 1997.
In 2003 Boris was honored once again on a 3rd US commemorative stamp, an honor which heretofore has been reserved only for US Presidents.
Sara continues to attend conventions around the world speaking about her iconic father and his remarkable legacy. Her favorite audiences are students whose questions reinforce her belief that these classic films are multi-generational in their appeal and their continued popularity is thanks to the wonderful fans!
San Diego Comic Fest is honored that Sara Karloff will be joining us in celebrating the 200th anniversary of Mary Shelley's Frankenstein and her father's remarkable, unforgettable performance as Dr. Frankenstein's creation.