[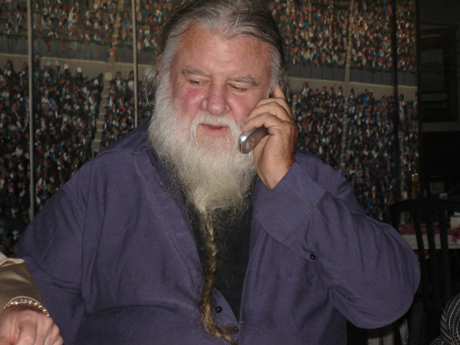 The San Diego Comic-Con and Ron Turner's Last Gasp publishing company were born less than a month apart. Comic-Con's first event, the one-day Comic-Minicon, took place on March 21, 1970 in the basement of San Diego's U.S. Grant Hotel. Last Gasp's first underground comic,
Slow Death Funnies
#1, was published in the San Francisco Bay Area on April 15th of that same year.
A few years prior, in 1967, things were happening in San Francisco, things that would change Ron Turner's life. After having spent two years in the Peace Corps teaching in Sri Lanka, Ron had returned to the U.S. and enrolled in San Francisco State University to obtain a master's degree in experimental psychology. Mightily influenced by the social changes happening around him, he soon became a social activist in the Bay Area's burgeoning counter-culture scene.
At a Christmas or New Year's party in the Berkeley hills, someone handed graduate-student Ron a copy of Zap Comix. Though he had no idea at the time of the effect that would have on the direction his life would take, he has said, "It brought back all my love of comics, but in an adult form that I could appreciate. I went into the back room and started reading the damn thing over and over". Later he began sharing underground comix with fellow social activists and was deeply impressed at how everyone found them entertaining and appreciated the satire in them. It seemed to him that the underground cartoonists had a good sense of how things really were.
Around that time, Ron moved to Berkeley and began to work with a group that had started an ecology center, the first of its kind in the U.S. Wanting to raise money for the center as well as awareness of its mission, he thought of publishing an environmentally and politically aware underground comic. Borrowing $2,500 from a friend, he published Slow Death Funnies #1, which featured the work of Ron Cobb, Robert Crumb, Kim Deitch, Greg Irons, Gilbert Shelton, Dave Sheridan, and others on the first "Earth Day", April 15, 1970.
However, when Ron showed up at the ecology center with twenty thousand copies of the comic that they'd agreed to take, he discovered that the group he'd been working with had been replaced. The new staff were less enthusiastic about Ron's publishing project, to say the least, and would only take 10 copies.
That left Ron with 19,990 copies in urgent need of a good home. Undeterred by this setback, Ron began distributing the comic at head shops and other outlets. He eventually succeeded in distributing all of them and, after reprints, 45,000 copies ultimately were sold.
For his next publication, Ron wanted to do a women's liberation comic. After hearing that Ron was looking for material, Bay Area cartoonist Trina Robbins called him up. Trina felt that women were being shut out of the comix world and that something had to be done about it. Ron agreed and the result in July, 1970 was Last Gasp's second comic, the all-women, feminist It Ain't Me Babe (which was named after the underground feminist newspaper where Trina worked). This groundbreaking comic featured the work of Trina Robbins (who also edited the book and drew its cover), Barbara "Willy" Mendes, and 'Hurricane' Nancy Kalish among others.
Continuing to publish high-quality comix, Last Gasp prospered and became one of the 'big four' underground comix publishers, along with Rip Off Press, the Print Mint, and Kitchen Sink Enterprises. Down through the years, Last Gasp has published, and sometimes discovered, the work of such highly-regarded creators as Richard Corben, Robert Crumb, Justin Green, Bill Griffith, Rand Holmes, Todd Schorr, Spain Rodriguez, and Robert Williams, as well as San Diego Comic Fest guests Joyce Farmer, Mary Fleener, and Pete Von Sholly.
However, following the 1973 Supreme Court decision in Miller v. California, head shops and other distribution outlets stopped carrying underground comix for fear of being prosecuted on obscenity charges. As a result, the underground comix market collapsed, leaving publishers scrambling to survive.
Last Gasp did survive by adapting to changing market conditions. In particular, it diversified over the years into publishing artist monographs, coloring pads, music-related books, and graphic novels. Today it is a major publisher in the world of lowbrow art and pop surrealism, which in large part grew out of the underground comix milieu.
Be sure to visit Last Gasp online at http://www.lastgasp.com/.