Robert Maya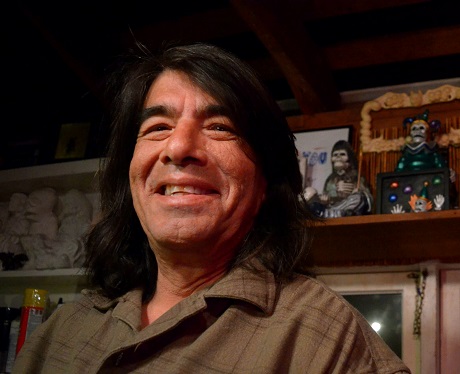 Robert Maya started at a young age digging clay from his backyard. His first paying job was making cement sculptures of animals for Lou Rankin Sculptures. He then moved to the Halloween industry, sculpting Halloween masks, mainly licensed pieces. He has also traveled around the world with Gary Kirk of Sandworld International, sculpting sand. It was through Gary that he met Niki De Saint Phalle and began a close working relationship with her on her limited edition sculptures and the Queen Califia Sculpture Park in Escondido.
In addition to his own work, Robert has worked with a military contractor molding/sculpting human targets and props for military training, and molded/sculpted for private companies (Disney, San Diego Zoo, Del Mar Fair, Giltspur Exhibit Group) as well as other artists.
Robert has had a number of great artists and friends that have helped him throughout his career including Mike McClure, Pepe Zimon, Rolly Crump, and Niki De Saint Phalle.
He has always enjoyed horror movies, monsters of all kinds, and things that have not been done before or made better – this really drives him. Robert appreciates all types of art, but for him "he prefers to go big."
This will be the third year Robert has participated in San Diego Comic Fest. This year he is creating a huge sculpture inspired by Jack Kirby's frequently used, Easter-Island-inspired "stone men" characters. Robert also plans to do live-art demonstrations at the Fest.