Mike Royer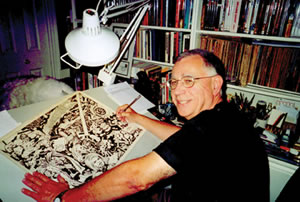 Drawn to Southern California in the spring of 1965, Mike Royer began his career assisting Russ Manning on the TARZAN, and MAGNUS ROBOT FIGHTER comic books and spent the next 14 years working in comic books and strips and T.V animation, even laying out 1/3rd of the 1st Saturday morning SPIDERMAN animated series. He inked, lettered, wrote, and penciled a variety of titles for Gold Key Comics and found time to do more than 2 dozen CRUSIN' record album covers while also contributing to Warren's CREEPY, EERIE and VAMPIRELLA magazines.
However, Mike is probably best known for his almost decade work as JACK KIRBY's personal choice to work with him on his Fourth World series at D.C. and his return to Marvel. Towards the end of their working together Mike found time to letter and ink the last 6 months of Manning's TARZAN Sunday strip, the last 4 months of which were signed Manning and Royer, and the first 4 months of Russ's STAR WARS daily and Sunday strip.
Beginning in the spring of 1979 Mike, spent the next 14 years on staff at the WALT DISNEY STUDIOS as a product designer and character artist in the Consumer Products Division addressing the areas of book publishing, comic books and strips and all forms of park and licensed merchandise. He designed and art directed the DICK TRACY and 3-D ROCKETEER music company Read-a-Long comic books. Mike created the "new look" that launched the massive WINNIE THE POOH licensing program in late 1993 and was featured in a 43 min. "How To Draw Pooh" video sent out to over 40 licensees. Mike takes no small amount of pride in the fact that within a year POOH was outselling MICKEY MOUSE worldwide.
In June of 1993, Mike left his studio staff position to continue working full time as an independent contractor for the DISNEY STORE where he was called "the POOH Man" and also designed several best-selling sculpted products using the vast DISNEY cast of characters.
After 7 1/2 full time years with the DISNEY STORE Mike returned to the world of freelance as an Art Service for a variety of clients, creating orthographic character turns for a video game, DIGIMON products, on screen icons for FOX FAMILY CHANNEL, to name just a few.
In the spring of 2001 Mike and his wife and idea collaborator returned to his birth state, Oregon, settling in Medford, where he has continued to do such things as some inking for Eric Larsen and Steve Rude, hundreds of DISNEY collector pin designs, and recreations for fans. Mike believes that his passion, attention to detail and accuracy, and his commitment to integrity will keep him at the board for some time to come.
It should be pointed out that Mike Royer was the first cartoonist guest, along with the fabulous Forry Ackerman, at the San Diego Comic-Minicon in 1970 that gave birth to what is now the monster Comic Con International.