Mark Evanier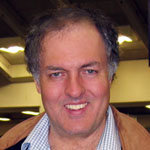 Mark Evanier began reading and collecting comics as a kid in the 1950s. It was his good fortune to be blessed with parents who didn't throw out his comics, as was common in those days. As a result, he was able to build up a sizable collection. In fact, one adult visitor to his Los Angeles family home was so impressed by the multitude of comics stacked neatly on shelves in Mark's room that he opined that Mark should open a store with them. When Mark asked why he would do such a thing, the visitor said it would be to make money, of course. After all, Mark surely didn't plan to keep the comics, did he?
As it turned out, that is exactly what Mark had planned and he still has them down to the present day. The reason for this you will no doubt understand: Mark was and is a comic fan. His comics weren't meant to be investments or passing fancies to be discarded. As he wrote in the introduction to his book Comic Books and Other Necessities of Life, "I bought them because I liked them. I liked reading them, studying them, talking about them."
In time, Mark met other local fans and joined organized fandom. From 1967 to 1969 he belonged to the Los Angeles Comic Book Club, of which he was the president. On a regular basis, the young club members met, discussed and argued about comics, and bought, sold, and swapped them.
In 1969 and 1970, Mark began to realize the fan dream of becoming a comics pro. Two early professional gigs in those years brought him into contact with the San Diego fans who were planning a little event that would one day become Comic-Con International. First, he and his buddy Steve Sherman were hired to assist Jack "King" Kirby who had recently moved to Southern California and second, Mark went to work briefly for Marvelmania International, an official Marvel fan club of sorts that was headquartered in the Los Angeles area.
It was through his work for Kirby and Marvelmania that Mark and the early Comic-Con committee became mutually acquainted. As a result, Mark attended the first multi-day San Diego Comic-Con in August, 1970 and he has attended every Comic-Con and remained a good friend of the con ever since.
In succeeding years, Mark built an increasingly successful career as a writer for television (live action and animation) and comics. In comics, he is especially known for writing Groo, a creator-owned comic created and drawn by Mark's pal Sergio Aragonés and first published in its own series in 1982 by San Diego's own Pacific Comics. Groo would go on to win Eisner awards for "Best Humor Publication" in 1992, 1997, and 1999.
In 1994, while busy working for Hollywood, Mark found himself wanting to write something that was entirely his own that would also reestablish a strong connection to the comics world that he'd been missing. Thus began his memorable run of columns for the Comic Buyer's Guide that lasted into 2002. His readers were delighted as Mark wrote of fannish things from the perspective of a seasoned pro and professional matters with the enthusiasm of a fan. Beginning in 2002, these columns would appear in three book-length collections published by TwoMorrows Publishing: Comic Books and Other Necessities of Life, Wertham Was Right!, and Superheroes In My Pants.
Also in 2002 Mark paid homage to one of his great comic-related loves with the publication of his book Mad Art. It was a loving, heavily-illustrated celebration of 50 years of Mad Magazine art. (Among the artists featured was John Pound who as a young San Diego fan had helped to produce the first Comic-Cons.)
Then in 2008, Mark gave tribute to his great friend and mentor Jack Kirby with his book Kirby: King of Comics. Published by Abrams Books, it won a well-deserved 2009 Eisner Award for Best Comics-Related Book. Also, with more to say about Kirby than could fit in a single book, Mark has continued to write a regular column for TwoMorrows Publishing's wonderful magazine the Jack Kirby Collector.
Meanwhile back at Comic-Con (and its sister convention, WonderCon), Mark has become the preeminent panel host. Of particular note among his legion of great programming sessions is the annual Jack Kirby Panel.
Somehow Mark also finds time to chair The Bill Finger Award For Excellence In Comic Book Writing, which each year at Comic-Con gives recognition to comic writers.
Mark also continues to write daily about his comic enthusiasms and other interests on his News From Me blog.