Hotel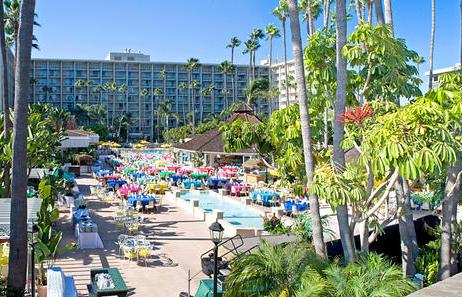 For 2018, the San Diego Comic Fest will return to the Town & Country Resort and Convention Center. We will have all of the Town & Country's meeting space on the East side for the Fest so once again it will be our own little world for three days in April, 2018.
For those who are driving, the hotel offers plenty of parking for just $5 per day. Those arriving by bus or trolley will be happy to know that the hotel is right next to the Fashion Valley Mall trolley and bus station.
The San Diego Comic Fest will be a social event that you will want to experience every minute of. By staying at the hotel, you will be able to enjoy Comic Fest around the clock (and you will help us out too since if enough rooms are rented, that will cover the cost of the con facilities).
Special Room Rates
Regency Tower/Courtyard Rooms
Single
$139.00
Double
$139.00
Triple
$159.00
Quad
$179.00
If you prefer to make reservations by phone (at the number listed below) please be sure to mention that you are with the San Diego Comic Fest so that you will get the Fest rates and will be given a room in the Fest area where other attendees and guests will be staying.
Here's the hotel address and phone number:
Town and Country Resort and Convention Center
500 Hotel Circle North
San Diego, CA 92108
Tel: (619) 291-7131
To learn more about the Town and Country you can visit their web site at http://www.towncountry.com/. (However, be sure to use the link provided above for room reservations so that you will receive the special San Diego Comic Fest rates and will be booked into the area for Comic Fest. This will also ensure that Comic Fest is credited for your room rental, which, as mentioned above, will help cover the cost of convention facilities.)