Hotel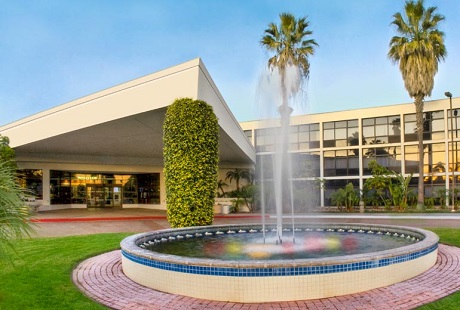 For 2017, the San Diego Comic Fest will be at a wonderful new venue, the Four Points by Sheraton. We will have all of the Four Points' meeting space for the Fest so once again it will be our own little world for four days in February, 2017.
For those who are driving, the hotel offers free parking! If you are flying in, you will be happy to know that the Four Points offers a free airport shuttle service.
The San Diego Comic Fest will be a social event that you will want to experience every minute of. By staying at the hotel, you will be able to enjoy Comic Fest around the clock (and you will help us out too since if enough rooms are rented, that will cover the cost of the con facilities).
Special Fest Hotel-Room Rates*
(Rates are for up to 4 guests per room.)
Type
Nightly Rate
1 king bed
$115.00
Double (2 beds)
$115.00
*Rooms must be reserved before February 1st, 2017 in order to receive the Fest room rate.
*You will be happy to know that parking and Wi-Fi are both free at the Four Points!

If you prefer to make reservations by phone (at the number listed below) please be sure to mention that you are with the San Diego Comic Fest so that you will get the Fest rates.
Here's the hotel address and phone number:
Four Points by Sheraton
8110 Aero Drive
San Diego, California 92123
Tel: (858) 277-8888