Barry Ira Geller
Winner of Academy Awards for Best Picture, Best Adapted Screenplay, and Best Film Editing,
Argo
has been praised for being an exceptionally well-made film based on a true story. However, as is commonly the case with "based on" movies, even one as fine as
Argo
, liberties were taken with the facts and omissions made in the interests of telling a tale the filmmakers hoped the audience would enjoy.
Some of those historical liberties and omissions center around the script and artwork that were used to establish the cover for the operation to rescue six U.S. diplomats from Iran during the 1979 Iran hostage crisis. That script was written by Barry Ira Geller and the art was design work that the great Jack "King" Kirby had done for Barry.

Barry's active interest in science was demonstrated at ages 13 and 14 when he won 3rd and then 1st Prize in the NYC Science Fair. His interest in the arts also came to the fore in his teen years when at age 15 he became a devotee of such counterculture poets as Allen Ginsberg and Tuli Kupferberg, and saw his own poetry published in poet Ted Berrigan's
C
Magazine at 16.
His dual interests in science and art would lead Barry at age 30 to buy rights to Roger Zelazny's award-winning science-fiction novel Lord of Light. Barry envisioned producing both a movie of the book and a related theme park to be called Science Fiction Land. He wrote a script for the planned Lord of Light film and brought in Oscar-winning makeup artist John Chambers (Planet of the Apes) to help. For the theme park, his notable consultants included Buckminster (Bucky) Fuller, Ray Bradbury, and architect Paolo Soleri. Barry also brought in the great Jack Kirby to do design work for the theme park.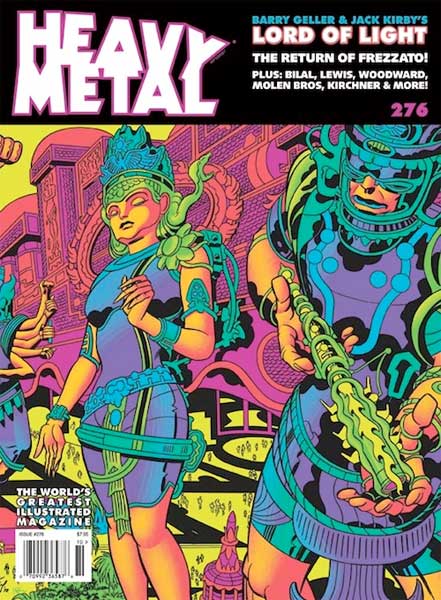 In 2015, Heavy Metal featured colored versions of Kirby's Lord of Light art, both in Heavy Metal magazine issue #276 and in a series of poster prints.
We are happy and honored to have Barry as a guest at San Diego Comic Fest in connection with 2017's Jack Kirby centennial and 50th anniversary of Roger Zelazny's Lord of Light.
You can visit Barry's Lord of Light web site at www.lordoflight.com.