The Geekie Awards 2014 Winner for Comics & Graphic Novels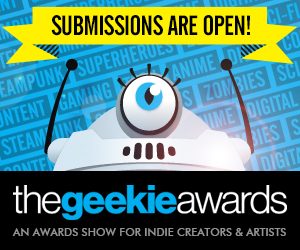 The Geekie Awards is a Hollywood awards show for indie creators in entertainment, gaming, comics and art.
The winner of this year's Geekie Award for Comics & Graphic Novels will receive from the San Diego Comic Fest his or her own program slot, autograph session, weekend badges for the winner and a guest, and a complimentary hotel room at the venue. PLUS they'll be featured on the Fest's Geekie Awards panel, which will be moderated by Geekie Awards creator Kristen Nedopak!
The Geekie Awards are now accepting submissions through May 31st. For more information see: http://www.thegeekieawards.com/2014-rules/comics-graphic-novels/
In the meantime, click here to see video of the Geekie Awards 2013 presentations, including presentation for best in Comics & Graphic novels featuring presenters Magda Apanowicz (Andy Jensen on Kyle XY and Lacy Rand on Caprica) and Jenna Busch (pop arts writer and host, co-host of "Cocktails With Stan") and winner Ken Pisani for Colunus.