Spike Steffenhagen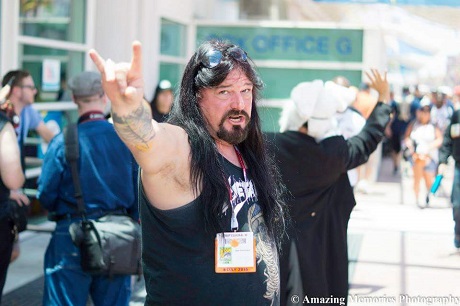 Spike Steffenhagen began working in comics via Revolutionary Comics' Tipper Gore's Comics And Stories after informing the publisher (and writer), Todd Loren, that he had much better stories. Though Loren never agreed per say, he did unleash Steffenhagen's writing on some of the company's flagship title "Rock and Roll" comics as well as a five-issue series on Pink Floyd and Led Zeppelin. Following the promotion to head writer of Hard Rock Comics for Revolutionary, Steffenhagen worked directly for the rock band KISS on their anniversary book Kisstory and an adaptation of their album The Elder for the Psycho Circus tour magazine.
His work has appeared in RIP magazine, Oui magazine, and various official publications by KISS, Pink Floyd, Nirvana, and Queen. His current project is a return to comic-book biography on the Swedish death metal band Opeth for Rock Biographys.
He enjoys taking selfies with other people's dogs and random strangers.
At the 2017 San Diego Comic Fest, Spike and fellow RnR Comics creator
Jay Allen Sanford
will be hosting the first
Rock 'N' Roll Comics Coloring Book book party
. Join the coloring jam on poster-sized artwork mounted at coloring stations stocked with free crayons, markers, colored pencils, and paints! Copies of the coloring book will be on sale, as well as DVD copies of the Story of Rock 'N' Roll Comics documentary, plus participants will receive free copies of RnR Comics on all four days!