Madus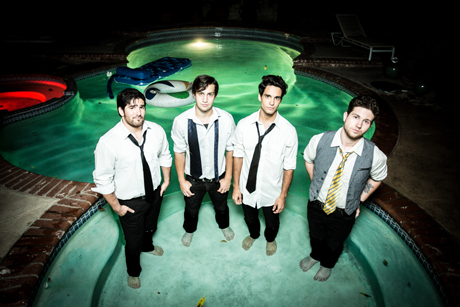 Madus is composed of Dugan Cruz on vocals, Kirby Shaw on guitar, Lenny Barahona on Bass, and Sam Sobo on Drums. Formerly known as Tangent Transmission, the band had songs placed in several films and TV shows such as, CBS's NCIS: LA, documentary H2Indo, and Stone Brewing CO's Holiday promo video. The band became Madus in May 2013. They are known for their electric live performances and ability to blend together different styles of music.
The band released their debut self titled EP in June 2013, which was recorded by Grammy Award winning producer Matt Hyde (No Doubt, Jonny Lang) at Sunset Lodge in Hollywood, CA. Sounds on the EP can be compared to bands such as Muse and Incubus, with a singer characteristic of Jeff Buckley. After releasing a couple scattered singles later in 2013 and early in 2014, Madus now has a new EP set due to release early 2015 and is planning to play as many shows as possible to support it.
BTW, Madus guitar ace Kirby Shaw was born to the comics-con scene as his dad is cartoonist, animator, and San Diego Comic Fest guest Scott Shaw!
Listen to Madus at http://madus.bandcamp.com/.
Visit Madus on Facebook at www.facebook.com/MADUSMUSIC.