Lucas Marangon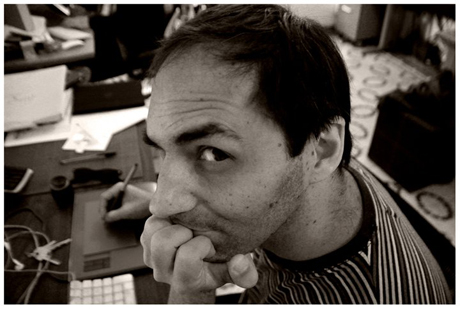 Born in Santa Fe, Argentina in 1971, Lucas Marangon and his parents suffered political exile in Mexico during the military dictatorship of 1976. Back in Argentina, Lucas attended the Fine Arts High School in Mendoza and graduated as a Graphic Designer, while working as a professional illustrator.
In 1996, Lucas moved back to Mexico City where he worked as an advertising illustrator and comic-book artist in various titles and companies until 1998 when he got his fist gig in the US comic book industry as the artist of Dark Horse's RIPD, recently released as a feature film.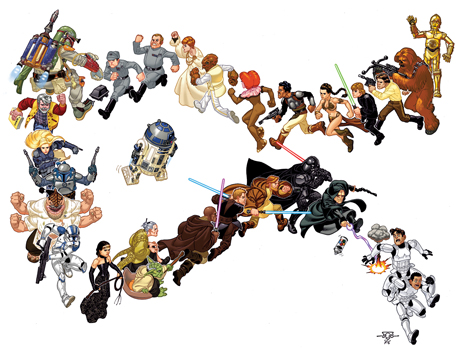 Lucas is best known for his work in comics based on the Star Wars saga, such as the acclaimed Tag & Bink series and Clone Wars, Dethklok, the comic adaptation of the Adult Swim series Metalocalypse, and his own science fiction graphic novel Hellcyon.
Lucas is currently working on advertising, concept design, and comic books as writer, penciller, colorist, and cover artist. His work has been published in many countries, including England, Spain, Mexico, France, Argentina, Italy, and Poland.
En Español:
Nacido en Santa Fe, Argentina, el 31 de Agosto de 1971, Lucas Marangon y sus padres sufren el exilio politico en la Ciudad de México durante la dictadura militar de 1976. De regreso en la Argentina, Lucas asiste a la Escuela Provincial de Bellas Artes en Mendoza, para graduarse posteriormente como diseñador gráfico, mientras ejerce como ilustrador profesional.
En 1996, Lucas se muda de nuevo a la Cuidad de México donde trabaja como ilustrador publicitario y dibujante de cómics para varios títulos y editoriales hasta 1998 cuando obtiene su primer contrato en los Estados Unidos como dibujante para Dark Horse Comics en la miniserie RIPD, llevada recientemente al cine, con las actuaciones de Jef Bridges, Kevin Bacon y Ryan Reynolds.
Lucas es más conocido por su trabajo en cómics basados en la saga de Star Wars, como la aclamada serie "Tag & Bink," "Dethklok" la adaptación a cómic de la serie de Adult Swim "Metalocalypse" y la novela gráfica de ciencia ficción de su autoría "Hellcyon."
Actualmente, Lucas se desempeña como dibujante, tanto en publicidad como en diseño conceptual, y como autor de cómics.
Lucas ha colaborado en títulos como Star Wars Tales, Clone Wars y la aclamada serie de Star Wars "Tag & Bink ". Su trabajo se ha publicado en países como Inglaterra, España, México, Francia, Argentina, Italia y Polonia.