Jay Allen Sanford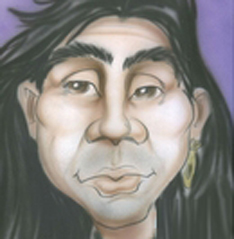 Please Note: Jay Allen Sanford regrets that for personal reasons he will not be able to join us at this year's Fest after all. However, he does hope to attend San Diego Comic Fest again in the future.
Jay Allen Sanford co-created the comic book line Rock 'N' Roll Comics for Revolutionary Comics, publishers of the Beatles Experience 8-issue series (among the titles reprinted in graphic novel form by Bluewater Productions, beginning in 2010), and his publishing company Re-Visionary Press is known for its line of Carnal Comics — True Stories of Adult Film Stars; the titles were among the top-selling independent comic books of the '90s. He also created the comic strip "Rock Tales," which began in Rip Magazine before beginning a 15-plus year run in Spin magazine. Since selling off his publishing interests in 2000, he likes to scribble and type stuff every day, and rumor has it that people actually pay him to do this, including MTV/VH1, for whom he writes TV shows and specials like Pop Up Video, 100 Most Metal Moments, etc.
For the San Diego Reader, he writes cover stories and musician interviews, as well as contributing each week to the Blurt music column for over 17 years. He draws two comic strips created specifically for the Reader: Overheard in San Diego (debuted 1996 and collected in book form in 2013) and Famous Former Neighbors (since 2004).
At the 2017 San Diego Comic Fest, Jay and fellow RnR Comics creator
Spike Steffenhagen
will be hosting the first
Rock 'N' Roll Comics Coloring Book book party
. Join the coloring jam on poster-sized artwork mounted at coloring stations stocked with free crayons, markers, colored pencils, and paints! Copies of the coloring book will be on sale, as well as DVD copies of the Story of Rock 'N' Roll Comics documentary, plus participants will receive free copies of RnR Comics on all four days!