HeroCrate Online Giveaway!
San Diego Comic Fest is proud to introduce our latest sponsor, HeroCrate! Who is HeroCrate you may ask? HeroCrate is a brand new monthly provider of comic book themed goodies delivered right to your door. HeroCrate offers a monthly mystery package filled with items showcasing your favorite superheroes. As a celebration of our newest sponsor, we have decided to share our love of comics with all of you by offering a free HeroCrate to one lucky person each week leading up to the date of our event!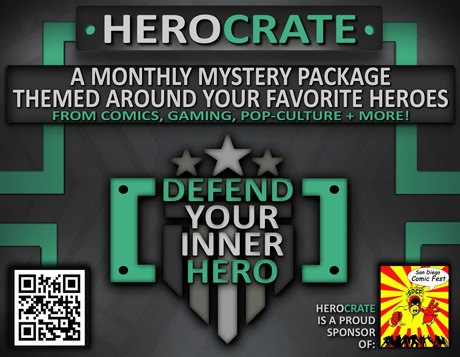 Inside each crate is one T-Shirt and 4-6 matching hero themed items. This is a total value of over $60+ packed inside one box! This week's giveaway is for the currently SOLD OUT HeroCrate #2, and it's all about The Incredible Hulk!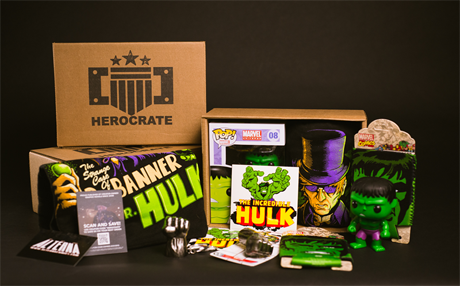 1.) The Strange Case of Dr. Banner and Mr. Hulk T-Shirt
– Features original artwork mashing up the beloved Jekyll and Hyde with Bruce and the Hulk!
2.) PoP! Marvel Hulk Collectable
– Collect all of your favorite superheroes starting with Hulk!
3.) Hulk Fist Keychain
– Show your friends that you mean business with Hulks fist attached to your keys!
4.) Incredible Hulk Sticker
– This Hulk sticker is perfect for expressing your love for the big green guy.
5.) Hulk Koozie
– A Hulk face can hugger. Perfect for keeping your beverages cool and stylish!
6.) Alterna Comics Discount Code
– If you buy as many comics as we do, then discounts are always appreciated. Use this discount code for an amazing deal on any Alterna Comic!
So how do you enter to win? Simple! Scroll down to the RaffleCopter entry form below and follow the instructions. Complete each free objective for a chance to win. The more objectives you complete, the greater your odds of winning. Don't forget, you can repost and retweet daily to increase your odds! Can't wait to see who our lucky winners will be!