Hal and Dee Astell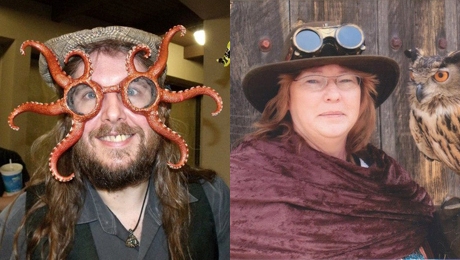 Hal Astell is a film critic, reviewing the movies that most people don't, at "Apocalypse Later", as well as taking a gander at mainstream titles for "The Nameless Zine". He's the author of two books, Huh? An A-Z of Why Classic American Bad Movies Were Made and Velvet Glove Cast in Iron: The Films of Tura Satana. He regularly programs and presents short film sets at a variety of Arizona conventions and film festivals, for which he often also screens, selects and/or judges. He hosts Q&As and speaks on panels. He's also a co-founder of the Arizona Penny Dreadfuls, an informal collective of like-minded steampunks.
Dee Astell is a regular face at many Arizona conventions, including Wild Wild West Con, at which she's a director. She's held the title of Steampunk Event Coordinator for a variety of fashion shows and costume contests, she's also run a host of maker workshops including teacup fascinators and steampunk weaponry. She's a popular set photographer for local films, occasionally venturing in front of the camera for odd roles as well. She's also a co-founder of the Arizona Penny Dreadfuls, which was her brainchild.
The San Diego Comic Fest is pleased to announce that Hal and Dee Astell will be presenting a program of delightful short Steampunk films.
https://www.facebook.com/hal.c.f.astell
http://www.apocalypselaterfilm.com
https://www.facebook.com/dee.astell