Floyd Norman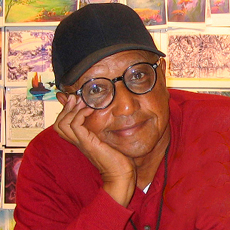 Disney Legend Floyd Norman began his storytelling career while still in high school assisting Bill Woggon on the Katy Keene series for Archie Comics. He attended the Art Center College of Design as an illustration major.
Floyd started working as an animation artist for the Walt Disney Studio on Sleeping Beauty, and eventually graduated to the story department where he joined the story team on The Jungle Book. He had the opportunity to work with Walt Disney on the last film the "Old Maestro" personally supervised.
Floyd Norman gets some well-deserved appreciation for
his Disney work on The View (February 11, 2014).
After he and his associates launched their production company in the late sixties, Floyd served as writer/director in the production of education media. Vignette Films, Inc. was one of the first companies to produce films on African-American history.
Moving to Public Television in the seventies, Floyd wrote and produced animated segments for Sesame Street, Villa Alegre, and dozens of educational films.
In the early eighties he joined Disney's Publishing Group. Floyd wrote the syndicated Mickey Mouse comic strip and contributed stories for Disney Comics. As Project Director, he created, wrote and designed several children's books.
Floyd returned to Disney Animation to work on The Hunchback of Notre Dame, Mulan, Dinosaur and the Tigger Movie. In 1997, Floyd moved north to Pixar Animation Studios where he joined the story crew for Toy Story 2 and Monsters, Inc. Retired but still working, Floyd recently lent his talents to the hit show, The Annoying Orange for the Cartoon Network.
Floyd has also recently been the subject of the documentary film Floyd Norman, An Animated Life from Michael Fiore Films. The film will be released in August, 2016 and will be previewed at Comic-Con.
Be sure to check out Floyd's book, Animated Life: A Lifetime of tips, tricks, techniques and stories from an animation Legend.